Who and what is ZELTHELD?
As an experienced festival-goer, I have founded the company ZELTHELD (which means "tent hero") to give other people a "no worries" festival experience. Here's a scenario probably everyone is all to familiar with: You carry all your camping stuff to a festival only to find out that you are already too late and there is only the bad spots left. If that wouldn't be enough you have to pitch your tent while it's just pouring down - even worse - you have to disassemble all your wet equipment and clean it at home.
That just shouldn't be anymore!
For just a few euros you can leave all that to us and enjoy the festival: You pick your festival on our website, you book your tent and/or camping accessories and we take care of the rest. We pre-pitch your tent, set up everything for you at an ideal location. The only thing you have to do is get to the festival and check in!
When you take advantage of our service you'll have less luggage to carry, less chores to care about. You will only have to worry about enjoying and having a good time and a relaxed festival.
Here's how everything works: "Frequently Asked Questions"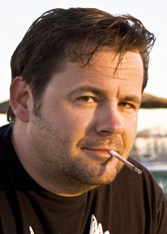 Martin Schmid
Owner